Evidence from around the world
The Parenting and Family Support Centre's Triple P – Positive Parenting Program is one of the most world's extensively researched evidence-based parenting programs. Triple P has been shown to improve children's social, emotional, and behavioural development as well as parents' confidence and stress and depression. Triple P has also been linked to improved educational outcomes and school readiness, and at a population-health level has been shown to prevent child maltreatment while improving children's and parents' mental health.
Yet so much more work needs to be done to design, test and evaluate new and different approaches that can equip families around the world with the skills they need to have a positive influence on their children's development.
Much more work also needs to be done to build on this foundation translational research to apply our behaviour change knowledge to issues of global importance.
More than 30 years of research and development
The Triple P – Positive Parenting Program started as a PhD thesis more than 30 years ago at The University of Queensland. To date, more than 146 randomised controlled trials into Triple P programs have been conducted as well as 61 service evaluations of community-based delivery of Triple P.
From the total number of evaluation studies (305), 50 per cent (142) have been conducted without developer involvement.
Click the graph to expand.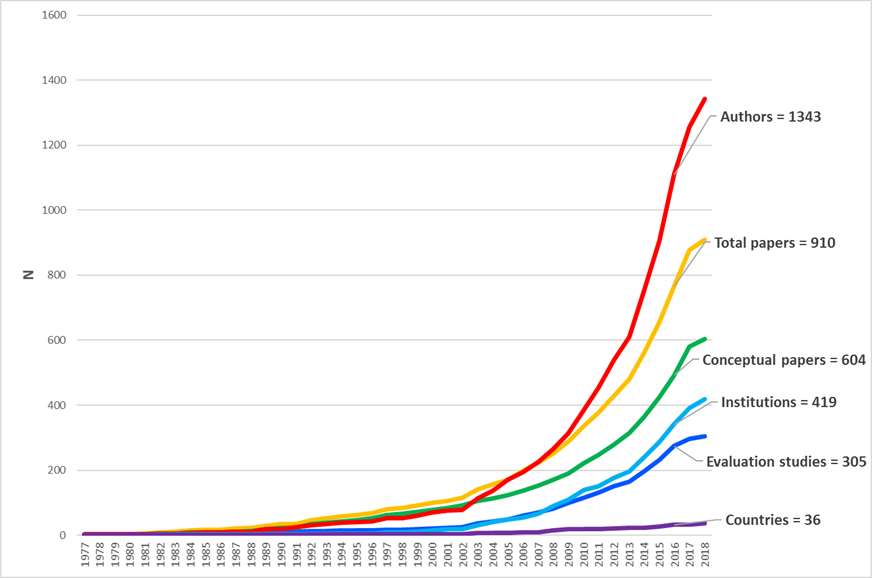 Our publications
The publications by Parenting and Family Support Centre staff represent a range of projects both within the Parenting and Family Support Centre and outside of it, and as such, do not represent the activity of the centre per se. They are, however, a reflection of the significant strengths that staff bring to the Parenting and Family Support Centre.